With these tricks to know how to get dog hair out of car seats, the upholstery of your vehicle will look almost like new.
Getting dog hair out of your car is not that difficult at all! Yes we know, actually a dog should not be allowed to sit in the back seat or co-driver's seat, but that often happens anyway. And yes, the dog hairs will automatically accumulate in your car seats and couches.
We love to go for a walk with our dog. However, on many occasions, transporting our dog in the car becomes a real nuisance when it comes to the upholstery of our vehicle.
These are the different instruments that help us clean dog hairs:
1. Window wiper
You need this:
Spray bottle with water
window wiper
This is how you do it:
Spray water on the car seats and rear seats with the spray bottle. For a nice scent you can add a little fabric softener to the water. Then go over the different surfaces with the window wiper and watch the hairs be pulled out of the fabric. Your seats and benches have never been so clean!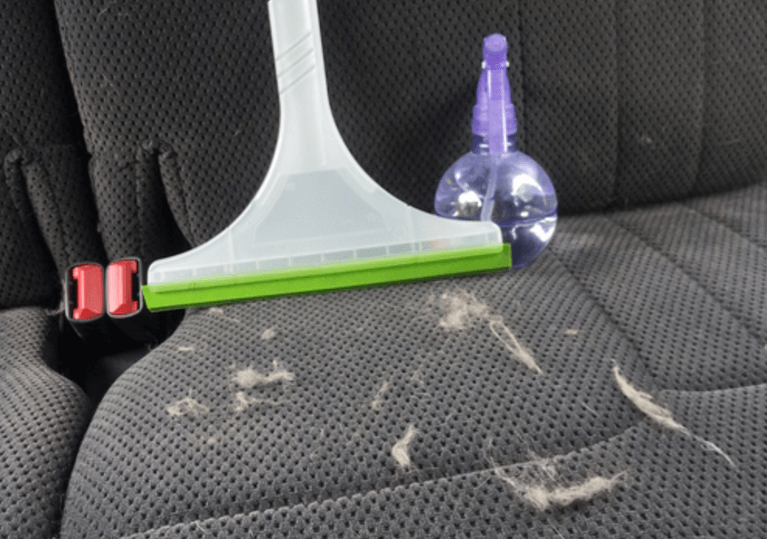 2.Vacuum cleaners
Large or industrial, vacuuming is a good solution to remove our dog's hair from the car. You can go to a car wash or get a handheld vacuum that can be used for your pet's day-to-day transport. You can also find on the Internet and specialized stores vacuum cleaners specially indicated to remove hairs.
>>> Click Here for the best vacuum for pet hair
3. Dog hair remover wedges
Among the latest developments to remove the hairs of our pet, there are in the market wedges "removers" especially suitable for hair and lint upholstery, fabrics or carpets. The multiple rubber spikes that these wedges possess catch the hairs and collect them to remove them easily.
4. Wet clothes and sponges
Some well-known homemade tricks consist of moistening a sponge and passing it through the upholstery of the car to retain the hairs. Remember that water is a good ally for this work.
5. Glue rollers
Also widely used to remove cat hairs in tissues and rooms, the glue and paper roller are another essential to remove dog hair in the car.
This type of accessories can be found in specialized stores but also in larger establishments at a fairly affordable price. If this option does not convince you, you can always resort to a home remedy that consists of taking a packing tape, wrapping it in your hand and resting on the hairs.
Now that you know how to get dog hair out of car seats remember that in addition to these solutions it never hurts that it be prevented by installing covers or bedspreads on the seats to avoid the fearsome hairs of our faithful friend. Car cleaning, in general, is easier with some basic tricks.