If you have come to this website looking to find the best water flosser on the market you are on the right web portal.
Probably the first thing you have asked yourself before you get here is … what is a dental irrigator? 
Well, it is something simpler than it seems, an electrical device that produces a jet of water under pressure that is applied directly to the teeth and gums.
Its function is to eliminate food debris in hard-to-reach areas, clean the bacterial plaque and sanitize the gums and complement brushing and flossing.
They are indicated for all people, even with orthodontics or dentures, and prevents cavities, periodontal diseases such as gingivitis, halitosis and bleeding and inflammation. In addition, its massage effect reaffirms the gums.
So if you are a person who takes care of your dental health, you will be interested to know which dental irrigators are more suitable to achieve complete oral hygiene and this guide that we have prepared for you will help you.
If you're curious (or in a hurry)
What is the best water flosser on the market
Last updated on January 16, 2021 4:50 am
1. Waterpik WP 660
Recommended for families, couples and singles who want the best dental irrigator and need a thorough cleaning thanks to its 7 heads adapted to different uses.
And when it seemed that there could not be a better irrigator, the Waterpik WP 660 appears crowning the list.
In addition to inheriting all the fantastic features of the WP 100 model, such as its 650 ml tank, its 7 heads and the power of its pressurized water jet (10 levels), it does so with a slightly smaller size.
Although this also has a drawback, it only has space to store two heads inside.
What makes it the best oral irrigator of 2019 is its new pulse modulation technology that allows it to do a more efficient job with cleaning the teeth and also has a mode called Hydro Pulse massage (intermittent jets) that serves to stimulate and reaffirm the gums.
According to studies that the brand has made the Waterpik WP 660 is more effective against plaque, gingivitis and periodontal diseases. It is also suitable for people who use orthodontics or have dental implants.
Other differences with respect to the WP 100 that is designed with quality materials, that has an LED indicator and that has a timer that alerts you and makes it easy to know how long you clean each area of ​​your mouth.
It is also quieter than other models but also makes noise, especially at maximum power.
In conclusion, a high-end model that has all the necessary features to make your dental hygiene perfect. Its main drawbacks are its price, above € 100 on Amazon and that can not be fixed to the wall.
2. Waterpik WP 100
Suitable for families, couples and singles who are looking for good power and quality and need a deep cleaning thanks to its 7 heads adapted to different uses.
The Waterpik WP 100 model is the best-selling dental irrigator on Amazon, it has more than 500 reviews with an average rating of 4.4 out of 5.
With this confidence that users have given it and the Waterpik brand guarantee that has shown that develop good products it is normal that you have reached number 2 of our top of the best dental irrigators.
It has a tank of 650 ml that can last during a good cleaning and on top of this is the lid with a very practical compartment to store 4 heads, although it is included with 7: two standard for daily use, one type brush, one special for orthodontics, one for tongue cleaning, one for interdental spaces and another for periodontal pockets.
The Waterpik Ultra WP 100 has enough power and you can adjust the intensity with roulette of 10 levels, depending on the sensitivity of your gums.
It is quieter than most models but still makes some noise and is not designed to be placed on the wall.
3.  THZY dental irrigator
Recommended for families or couples who need deep cleaning thanks to its 7 heads that fulfill different hygiene functions.
In principle, it could give us a little distrust of this THZY model of a brand not known, surely Chinese, but little by little it has been placed
among the best selling dental irrigators of Amazon
 and the opinions of the users are very good.
This together with the features it offers and its tight price makes it a very interesting model to consider your purchase.
It has a standard 600ml water tank, 2 cleaning modes (Normal for teeth and Gum Massage), the water jet pressure is adjustable (20-150 psi) and has a compartment to store the 7 heads of the which has: 3 equal for different family members and 4 specialized (brackets, prostheses, tongue).
A characteristic that differentiates it from the competition is its UV sterilizer, using ultraviolet radiation the heads used in the compartment in which they are stored are disinfected.
Suction cups on the base help you better fix on any surface of the bathroom so that it does not move while using. Also, the noise made by your engine is moderate, the same as an electric toothbrush would.
4. Waterpik Traveler WP 300
Suitable for those people who want a good dental irrigator at home but who can also take a trip without involving too much weight and space.
The Waterpik Traveler WP 300 is the travel version of this popular brand of irrigators,
 although it would be more correct to say that it is in an intermediate point between the normal ones and the laptops such as that of the Broadcare brand since it is not so compact due to its deposit It is 450 ml.
However, it is designed to be transported in a travel bag that is included in the pack, the tank part is removed and placed upside down on the base thus reducing the size it occupies.
It comes with 4 nozzles included: one standard, one for the tongue, one special for dental appliances and another to clean the periodontal bags. All of them also fit in the travel case to carry them comfortably. It would be perfect with another standard to be used by two people.
In relation to the power, it does not have as much force as the Waterpik WP 70 or WP 100 but it is still sufficient to remove all food debris from between the teeth. It has 3 levels to adjust it.
Its main drawbacks are that it is noisy, it vibrates a little too, the shutdown button is not in the control but in the base and complicates its handling and the 450 ml of water in the tank may not be sufficient for us if we do it in depth, it would be necessary to pause to fill it.
5. Waterpik WP 72
Recommended for families and couples who are going to share it and people who need more time to clean their teeth, for example by carrying brackets, having a large 1000 ml tank and enough power.
The Waterpik WP 70 is the older brother of the Waterpik range of irrigators and
brings with it fantastic features
 as expected from this brand.
Highlights the large capacity of your 1000 ml water tank, more than enough for one or two basic cleanings and perfect for one in-depth as is usually done if you wear orthodontics or have a dental implant.
In addition, its potency is very good, and properly cleans all the gaps of the mouth thanks to its 4 heads, two standards, one for periodontal bags and another for the tongue.
A feature that makes it different is that it has pressure control on the irrigator itself, a lever that slides between the 5 levels it has when most mouth irrigators have it at the base of the device.
It works connected to the power and does not come with support included to place it on the wall so you have to place it on the sink.
Its main drawbacks are that it makes noise, vibrates and has no lid on the tank.
6. Apiker dental irrigator
Recommended for families or couples who want to share the irrigator and need a thorough cleaning thanks to its 8 heads adapted to different uses.
With a more than reasonable price, this Apiker dental irrigator faces up to more well-known brands with almost professional benefits.
It is a great option if you are going to share it with other people, as it allows you to adjust the water pressure in up to ten different levels. Thus each one chooses the intensity that is most comfortable for him.
And with the nozzles, the same: you have three normal ones so that different people can use them and five specific ones :
To remove bacteria and stains on teeth
For periodontitis
For cleaning orthodontic appliances
For cleaning tartar on the tongue
For nose cleaning.
The deposit is 600 ml, more than enough for a good cleaning without having to fill, except if you use braces or some type of dental corrector, which requires more time.
To put a paste, that the finish is a little more coarse than that of other irrigators of higher range, but in practice, the operation of the Apiker has nothing to envy to some that cost twice or more.
7. Broadcare oral irrigator
Recommended to take it on a trip because of its small size and because it works with a battery lasting several days.
Broadcare is a very modest brand that sells health products and personal care and has very good ratings from its customers, so we have considered it reliable to include this model of oral irrigator in our list of the 10 best.
This model is portable since it weighs only 270 gr, has a reduced size of 27.3 × 7.3 × 5.6 (height x length x width) and works with battery, that is, it is not connected to the base by any cable No water conduit, just place it there to recharge it. The tank has it integrated into the handle.
Its power is good and it has 3 operating modes: Normal, Soft (soft) and Pulse (intermittent stream). The latter is mainly used to massage the gums since it is the most delicate and is suitable for problems that cause some bleeding such as gingivitis.
The disadvantage of being portable is that its deposit is the only 150ml, so it must be filled 3 times to get a normal cleaning.
In addition, it only comes with a spare head included (2 in total). Having only 2 levels of power for teeth cleaning (powerful and gentle) can also be a problem for those who do not find either comfortable and need something in between.
In short, a good travel option quite cheap but not the best to have it fixed at home. Your warranty is 2 years and you have a 30-day return period.
8. Panasonic EWDJ10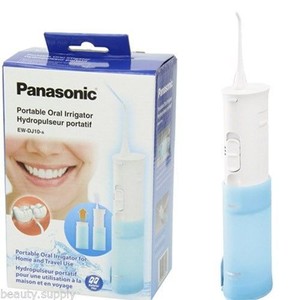 Now, for those looking for an economic and quality model, we bring you the EWDJ10, one of the Panasonic dental irrigators that offer a better value for money in today's market.
The design of the present device incorporates a portable water tank at the bottom of the product, with a capacity of 165 ml; This, in addition to the fact that it operates based on two AA batteries, makes it an article worth considering for all those people who must travel continuously.
Among the features best valued by users who have made use of this model, we find its dual-speed pulse system with which it is possible to adapt the device according to the level of sensitivity of each user, while the pulse It improves the health of the gum and the general appearance of your teeth.
9. Morpilot Dental Irrigator
The Morpilot brand is Amazon's best-selling dental irrigator accessory.
It is rechargeable via USB, making it an ideal oral cleaning instrument for travel. Its wonderful lithium battery only requires a  charge for 4 hours and can be used for 7 to 10 days.
It has  4 identical nozzles, to have spare parts or, share them with other family members.
Its  200-milliliter detachable tank is just the right size to make this device portable and convenient to use.
This Morpilot dental irrigator offers a  360º cleaning, to reach all areas of the mouth.
In addition, with its  3 levels of water pressure, you can select the one that suits the sensitivity of your gum.
The device is completely waterproof, so there is no risk of electric shock.
You can disassemble the tank completely, to perform a deep cleaning or introduce the water through a nozzle that counts.
Guide to buy the best water flosser on the market
What is a dental irrigator used for?
The first thing to be clear about is that dental irrigators are easy and safe to use. As we have indicated at the beginning, in no case do they replace brushing, either with an electric or manual brush, and they only replace dental floss if they clean the interdental spaces well enough, if they are very closed and the water does not penetrate well, the thread must also be used as pre-cleaning.
Its operation is also simple. The device takes the water from the tank and by means of an electric pump causes it to flow through the hose to the head and pressurized jet either continuously or intermittently depends on the selected mode that some models have.
Why use an oral irrigator? Benefits of use
Since we are little we are educated in the use of the toothbrush but although we have a perfect denture there are always spaces between the teeth and the corners of the gum where you can accumulate tiny traces of food where the traditional brush is not enough to clean, whose Decomposition along with the existence of natural bacteria in the mouth can generate dental plaque.
Oral health is so important that it is advisable to take care of it from childhood and even the Ministry of Health carries out prevention campaigns in this regard.
When we are older and we are aware of this we begin to floss and even interdental brushes for the widest spaces but it is not usually enough in most cases and proof of this is that once a year we must go to the dentist to do a professional cleaning because we have formed tartar in some areas.
It should also be known that tartar is a solidification of the accumulated bacterial plaque and it is not possible to eliminate it on our own, even with an oral irrigator, it is necessary to see a specialist.
The supragingival plaque is the one that accumulates on the surface of the teeth and can cause cavities while the subgingival accumulates in the grooves and periodontal pockets and can generate more important problems.
Therefore the dental irrigator must be used to complete oral hygiene, it helps to eliminate the maximum amount of plaque and dirt possible and thus prevents tooth decay, halitosis and periodontal diseases such as gingivitis and periodontitis that cause the deterioration of the gums.
On the other hand, it also strengthens the gums because you can massage them with greater pressure and that stimulates them.
In addition, if you use orthodontics or have a bridge, crown or dental implant you should consider the use of an irrigator very seriously because neither the brush and the silk are capable of cleaning so thoroughly. It is especially indicated by dentists for these cases.
How to use an oral irrigator?
It should be used after the toothbrush and floss. To start using an oral irrigator make sure the reservoir is full of water, although you can also dilute mouthwash or mouthwash to reinforce cleaning.
If it is the first time you use it you should start with a low level of pressure and go up until you reach the level that you feel is right for you.
Insert the tip of the head into your mouth before turning it on.
Place it pointing to your gums and close your lips to avoid splashing, but allow a proper flow of water.
Lean towards the sink to let the waterfall on it and stain the rest of the bathroom as little as possible.
If you have a timer, it will stop vibrating for a moment every 30 seconds to warn you to change the zone and stop after 2 minutes, ending the cleaning.
In any case, never take it out of your mouth before finishing it.
As for maintenance measures, it is advisable to dry the head and the base in case it has been wet and empty the remaining water from the tank.
Most models include several nozzles or standard heads so that it can be used by several family members and several special ones to adjust to the differences in each mouth.
Dental irrigators for children
Although there are hardly any models of specific dental irrigators for children, they can also use the ones we have analyzed in this article because they all allow for pressure adjustment, which for a child will have to be much lower so as not to feel discomfort.
The advantage over dental floss is that it can be more fun for them and therefore develop a habit, which if it lasts during adulthood will ensure very good oral hygiene.
In any case, the use of the irrigator should be supervised by an adult and he should never replace brushing with toothpaste.
Why is the Waterpik irrigator better than the Oral B irrigator?
As we have indicated in the previous analyzes of both the Waterpik and the Oral B models, the power of the former is much better and the comments of hundreds of users corroborate it, opinions more reliable than the watts of the product or the number of pulsations that they can reach because they are not the only factors that influence the final force that the water jet can reach.
Why is this feature so important? Because of the pressure jet is not strong enough it will not drag food debris effectively.
We only recommend Oral B irrigators in case you have very sensitive gums, they bleed very easily and therefore do not need as much power as Waterpik irrigators can offer you, although they would also be worth it because it is adjustable in levels of 1 to 10.
Where to buy a dental irrigator?
If you have already decided to buy a dental irrigator and you just need to know where to buy it you have several alternatives.
As it is a product that begins to be widely used you can find it in department stores or stores specializing in household appliances and small electronic devices for the home, but you also have the option to buy it online as is logical.
Useful tips to buy the best water flosser on the market.
A dental irrigator is a fabulous and indispensable tool for deep oral cleaning, which, by means of a water jet, is capable of removing tartar, food debris and other bacteria.
The dentists and specialists of Health recommend incorporating a dental irrigator as part of the routine washing of the teeth, in order to have healthy teeth and much whiter.
In order for you to be able to choose that dental irrigator that is ideal for you, capable of satisfying all your needs and leaving you with a spectacular smile, we will offer you the best tips to buy the best dental irrigator.
Water pressure levels
One of the first aspects to consider when acquiring an oral irrigator is that it allows adjusting the pressure of the expelled water.
This is essential if it is to be used with children or even adults who have sensitive gums. Since they will require a much softer force to be able to clean, but without hurting the teeth.
It is recommended that you have at least 3 levels of water pressure so that you are able to select the one with which you feel most comfortable.
Nozzles
Another very important point is the number of nozzles you have. Dental irrigators usually include at least the normal or classic tip, although the ideal is that they have different colors in the base so that several users of your family can use it.
On the other hand, if you wear orthodontics, it is necessary that the oral irrigator you choose has a special mouthpiece.
If you suffer from halitosis, a tip that is able to deeply clean your tongue will be the key to getting rid of bad breath once and for all.
On the other hand, for patients with periodontitis, a mouthpiece recommended for that purpose will allow you to treat your disease with the delicacy that is required.
Tank size
The size of the tank will offer you the possibility of filling it less frequently, thus being able to perform more than one oral cleaning without the container requiring more liquid.
On the other hand, a larger capacity tank will require a  wider area to place the device.  That is why if you have a small bathroom, it is best to opt for a smaller space.
Finally, there are also portable dental irrigators on the market, which take up very little space. Being ideal for people who frequently change their location, whether for work or vacations.
Now that you know all these great tips, it will be very easy for you to make a  successful purchase and start enjoying a  clean, fresh and bright smile.